McAfee warns of a sixfold increase in the number of cyber attacks as the developer of the anti-virus software reported a sharp increase in malicious programs that are secretly installed on computers and other devices for cryptocurrency mining.
In the first quarter of this year, McAfee recorded 2.9 million samples of malware for hidden mining, while in the fourth quarter of 2017, there were about 400,000 malicious programs.
In McAfee Labs Threats Report, researchers analyze situation with viruses, malware, viruses, ransomware, and other cyberthreats. The company believes the main trend is the explosive growth of cryptojacking, the hidden use of a computer or other devices for mining. Since the beginning of the year such malware has become more popular than ransomware and has shown growth of 629%.
"There were new revelations this quarter concerning complex nation-state cyber-attack campaigns targeting users and enterprise systems worldwide," said Raj Samani, the chief scientist at McAfee. "Bad actors demonstrated a remarkable level of technical agility and innovation in tools and tactics. Criminals continued to adopt cryptocurrency mining to easily monetize their criminal activity."
Researchers also note that another serious threat is the theft of cryptocurrency using hacking attacks. Its reported that the well-known cyber group Lazarus organized a full-scale attack on users' computers. The program was secretly installed after opening the application from a received email. This program tracks the users' mining and their operations with cryptocurrencies. The Attack organized by cyber group was called HaoBao.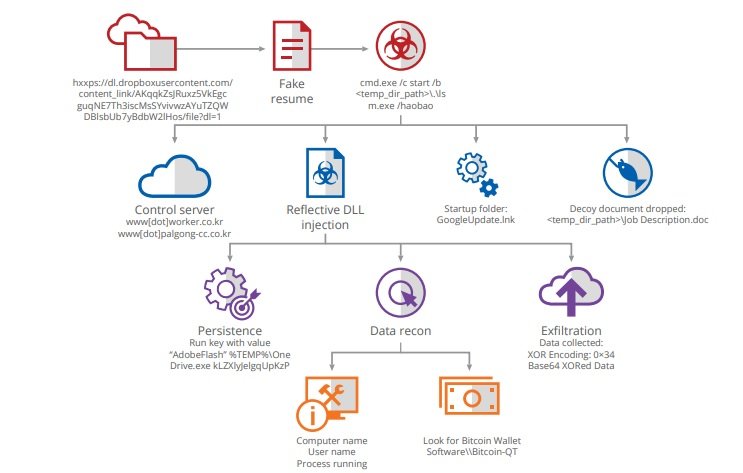 . The trajectory of the HaoBao implant.
The greatest growth of cyber attacks, by 47% was noted for companies and organizations working in the field of health and medicine. Cyber attacks against educational institutions and companies working in this field have grown by 40%. The third place in the growth dynamics of cyberattacks was financial companies and institutions (39%). The researchers also refer to them as attacks on the SWIFT system.
Recently, McAfee published their latest study dubbed the "Blockchain Threat Report" Which puts all known attacks and threats on blockchain under the microscope. Phishing attacks, Malware, Cryptojacking, Endpoint miners, Implementation vulnerabilities, Wallet theft, Technology attacks, Legacy attacks which are modernized, and dictionary attacks are being investigated in detail.