One single tweet by the U.S. president Donald Trump wiped $5.7bn off the Amazon's stock market valuation on Wednesday, Independent reported.
The online retail giant's shares lost 1.2% in two hours of pre-market trading after president Trump's comment in the social media accusing Amazon of "doing great damage to tax paying retailers".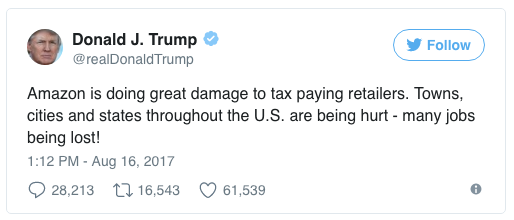 Luckily, Amazon's shares regained the loss when markets opened in New York. They were trading down up 0.33% in midday.
It was not the president's first attack at Amazon. In December 2015 he accused the company founder Jeff Bezos of using the Washington Post as a tax shelter in order to reduce the tax bill of the online retailer.
Neither was it his first attack at big business players via his Twitter account often causing their valuations to crash temporarily. In January Toyota (TSE: 7203) shares plummeted by around $1.2bn after a negative tweet by Trump vowing to stop the firm from moving to Baja California in Mexico.
In December, the defence giants Boeing (XETRA: BCO) and Lockheed Martin (NYSE: LMT) suffered from Trump's tweet, complaining their services were way too expensive for the U.S. budget. Boeing's value fell by more than $1bn, Lockheed's dropped down $3.5bn.