The Canadian Broadcasting Corporation is standing by a report which alleged that the chicken used in Subway's sandwiches contains less than 50 percent chicken.
The claims were made on a February 24 episode of the CBC Marketplace program that told viewers DNA testing found that Subway's oven-roasted chicken contained just 53.6 percent chicken while its chicken strips contained about 42.8 percent chicken.
At the time a Subway spokesman called the allegations "defamatory and absolutely false" as the fast food chain sued the broadcaster for $210 million.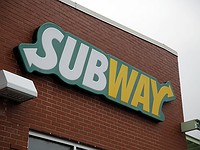 However, the CBC maintains that it used a legitimate lab to test the chicken.
The broadcaster said in court papers that the Trent University was "recognised as an independent, credible, and expert provider of DNA testing services, including on animal products."
"The CBC defendants shared the results of the tests with independent experts, who confirmed they were reasonable or probable," the CBC said in papers filed at the Ontario Superior Court of Justice in Toronto.
It added that the chicken samples were retested and that Subway was given "several weeks" to respond to the test results before the story went to air.
The broadcaster is seeking to have the case dismissed, arguing the suit is an abuse of the court's process and there is "no genuine issue to be tried".
Subway has declined to comment.