The father of Fox News Roger Ailes has died at the age of 77.
Ailes was the founding CEO of Fox News when the network was launched by Rupert Murdoch's News Corporation in 1996.
He held that position until July last year when he resigned amid a series of sexual harassment allegations involving former and current Fox News employees including Gretchen Carlson and Megyn Kelly.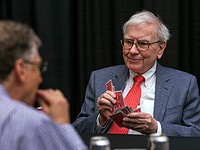 A statement from Ailes' wife Elizabeth described him as a "patriot" and said she was "profoundly sad and heartbroken".
"Roger was a loving husband to me, to his son Zachary, and a loyal friend to many. He was also a patriot, profoundly grateful to live in a country that gave him so much opportunity to work hard, to rise -- and to give back," the statement said.

"During a career that stretched over more than five decades, his work in entertainment, in politics, and in news affected the lives of many millions.

"And so even as we mourn his death, we celebrate his life..."
As well as turning Fox News into the best rating cable news network in the US Ailes had a profound influence on politics, particularly among the right wing of the Republican party.
Before launching Fox News Ailes worked as an aide to President Richard Nixon in 1970 and was later involved in successful campaign to re-elect Ronald Reagan as president in 1984.