The Nasdaq (NASDAQ: The NASDAQ OMX Group [NDAQ]) has launched a machine-intelligence enhanced data service that aims to help fund managers and traders make larger profits through better use of data.
The Nasdaq Analytics Hub will serve as "a new platform that provides the buy side with investment signals that are derived from structured and unstructured data" such as from social media, central bank announcements, retail sentiment and technical factors among other sources, the Nasdaq said in a statement.
"The Nasdaq Analytics Hub reflects our partner-based approach of collaborating with key start-ups – like Lucena Research – to apply machine intelligence on proprietary and third party data sets to create new signals that investors may not have been able to access on their own," said Terry Wade, Senior Vice President and Head of Business Development and Product of Global Information Services, Nasdaq.

"We've implemented a rigorous process whereby we use machine intelligence to normalize, validate and back-test the data to ensure the resulting outputs translate into multiple real-life investment use cases."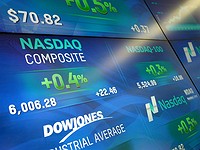 The Nasdaq said it would add new data sets and sources, as well as new insights and analytics, on a continual basis.