SpaceX has successfully tested the rocket it hopes will one day take a crew to Mars.
The Elon Musk-headed company tested the Falcon Heavy rocket at its rocket development facility in Texas last week and published footage of the static fire test today.
The firm says the Falcon Heavy will be the most powerful operational rocket in the world with more than double the power of the current leader, the Delta IV Heavy. But thanks to SpaceX's reusable rocket technology the Falcon Heavy will be only be around a third of the cost, the company says.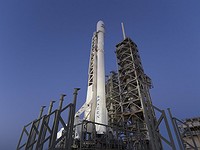 SpaceX said the Falcon heavy "was designed from the outset to carry humans into space and restores the possibility of flying missions with crew to the Moon or Mars".
The date of the rocket's first launch has not yet been revealed but it is slated to be among 26 launches that SpaceX will carry out this year, more than triple the eight flights it carried out in 2016.
The Falcon Heavy is based on the Falcon rocket that SpaceX currently uses to make deliveries to the International Space Station but has a much larger payload.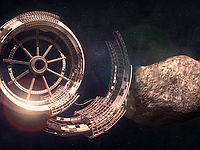 The Falcon Heavy will be able to carry the equivalent of a fully loaded 737 jetliner, including fuel passengers and cargo.
In March SpaceX made history when it successfully reused a rocket that had previously been launched.