Starbucks (NASDAQ: Starbucks Corporation [SBUX]) has revealed that almost a third of its sales in the last quarter were made via its app.
The global coffee chain's earnings showed that 29% of its sales came from orders that were prepaid online or through its mobile app.
The chain's popular app was recently updated to allow customers to place pick-up orders as well as to pay for their orders.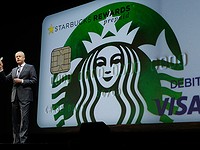 The update was so successful it led long lines being formed at stores as people waited to pick up their online orders. It had the unintended effect of scaring off customers who assumed the people were waiting to place their orders rather than just pick them up.
The success of Starbucks digital sales was a highlight of an earnings result that otherwise disappointed the market.
Shares in the coffee chain slipped five percent yesterday after same-store sales failed to meet expectations.
Same-store sales growth came in at three percent while the market had expected 3.7 percent.
Revenue was also slightly off expectations, coming in at $5.29 billion, versus a forecast of $5.41 billion.
However, CEO Kevin Johnson remained optimistic about the rest of the year.
"With our U.S. business accelerating throughout the quarter and strong performance in China, we are poised to deliver strong revenue growth in the second half and into the future," said Johnson said in a press release.
He said while same-store sales growth failed to meet expectations, the measure had improved later in the quarter.
Same-store sales growth reached four percent in March and grew further into April.