Luxury shoemaker Jimmy Choo is putting itself up for sale in a move to maximise profits for its shareholders, the company said today.
The British retailer said the decision, which comes as part of a strategic review, has the backing of its majority shareholder JAB Luxury.
"Jimmy Choo has discussed the strategic review process with its majority shareholder, JAB Luxury GmbH, and JAB Luxury has confirmed that it is supportive of the process," Jimmy Choo said in a statement.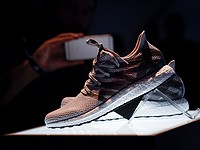 JAB owns 67.7 percent of Jimmy Choo.
The retailer, which has more than 150 stores around the world, said it had not yet received any offers.
Jimmy Choo shares have risen sharply over the last year and at 11:20am (GMT) were trading at 184 pence, up 9.5 percent since Friday.
The stock is up 30 percent this year, partially lifted by the weakening of the pound.