The CEO of the world's largest cement maker has resigned over revelations that LafargeHolcim paid armed groups in Syria to keep their factory open.
Eric Olsen said he had not personally taken part in any wrongdoing but was stepping aside to bring "serenity" to the Swiss-French company.
"While I was absolutely not involved in, nor even aware of, any wrongdoing I believe my departure will contribute to bringing back serenity to a company that has been exposed for months on this case," he added.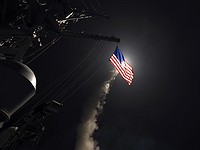 Last month Lafarge revealed that an internal review of the company's operations had found that managers at the Jalabiya factory in war-ravaged northern Syria had, until 2014, paid protection money to local militias in order to remain open.
The factory cost $680 million and took almost three years to set up before it began producing in 2010.
Lafarge said that Mr Olsen was not responsible and was probably not aware of the deal with the Syrian militants.
LafargeHolcim chairman Baet Hess is acting as CEO until a replacement for Mr Olsen is found.
LafargeHolcim is the world's largest producer of cement, aggregates and ready-mix concrete.