Shares in US steelmakers surged after President Donald Trump launched a probe into Chinese steel imports and raised the possibility of tariffs.
Mr Trump cited national security concerns when he made the announcement at the White House yesterday alongside Commerce Secretary Wilbur Ross and executives from US steel companies.
"Steel is critical to both our economy and our military," Mr Trump said.

"This is not an area where we can afford to become dependent on foreign countries."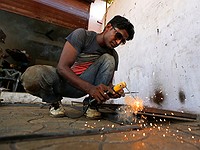 China is the world's largest steel producer, churning out far more than the local market demands and has been accused of dumping excess output around the world.
Chinese steel now accounts for 26 percent of the US market.
Mr Ross, who has been accused of making his billion dollar fortune in industries protected from foreign competition, said that if the probe finds cheap imports of foreign steel are hurting US steel producers he will recommend the government take counter measures that could include tariffs.