Tesla (NASDAQ: Tesla [TSLA]) shares have slumped after the electric vehicle maker announced it was voluntarily recalling around 53,000 of its cars over an issue with electric-parking brakes.
The Elon Musk-headed firm said it made the decision "to be overly cautious" despite no reports of accidents of injuries.
"Tesla recently discovered a potential manufacturing issue with the electric parking brakes installed on certain Model S and Model X vehicles that could prevent the parking brake from releasing, " the firm said in a statement.

"Specifically, we have determined that the electric parking brakes installed on Model S and Model X vehicles built between February and October 2016 may contain a small gear that could have been manufactured improperly by our third-party supplier. If this gear were to break, the parking brake would continue to keep the car from moving, but the parking brake would then be stuck in place."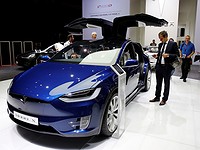 Tesla added there had been no reports of the "parking brake system failing to hold a parked vehicle or failing to stop a vehicle in an emergency".
Tesla shares closed just under one percent lower at $302.51 but have surged so much this year the car maker has surpassed Ford (NYSE: Ford Motor Company [F]) in terms of market capitalisation.