Taiwanese phone maker HTC is set to release a device that combines all the features of a smartphone and the anger-relieving qualities of a stress ball - a "squeezable" phone.
But don't get your hopes up. It won't actually bend but instead offer a feature that will users to have the device carry out a task by touching the sides.
A teaser video for the phone carries the tagline "Squeeze for the brilliant U."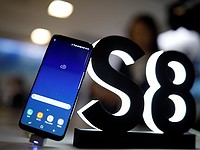 The phone will reportedly be called the HTC U and will be launched on May 16.
While it's no call-making stress ball the technology which makes the magic happen is believed to be a first.
"Edge Sense", as it has been dubbed, consists of tiny sensors built into the frame of the device that recognize pressure on its sides.
Squeezing the phone will allow different tasks to be carried out such as launching apps.
HTC will be hoping they're onto a winner as the firm trails way behind market leaders Apple (NASDAQ: Apple [AAPL]) and Samsung in terms of smartphone sales.