Apple (NASDAQ: APPL.NASDAQ) will pay its outgoing graphics chip provider Imagination Technologies just one third of its current royalty rate before cutting its deal with the company entirely over the next two years, UBS predicts.
Earlier this month Apple sent Imagination shares into freefall when it announced it would stop using the UK firm that currently supplies it with graphic chips for its iPhones and iPads.
Apple is Imagination's largest customer and the royalties it pays make up around half of Imagination's revenue.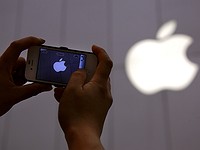 UBS estimates that Imagination will be booking losses by the 2019 financial year and will need to consider restructuring its business to cope with the loss of Apple as a client.
The two firms are currently is in talks to reach a new licensing deal.
UBS forecasts Apple will slash the royalty rate it currently pays of around $0.30 to closer to $0.10, which is reportedly the rate Imagination charges other customers such as MediaTek.
Imagination's shares have lost more than half their value since Apple's announcement and are today trading around 102 pence, down from almost 270 pence the day before Apple's decision.