Netflix (NASDAQ: Netflix [NFLX]) shares have surged to a record high after the company announced stronger than expected subscriber growth targets for the second quarter.
The streaming company added just short of 5 million users across the world in the first quarter, which was below the 5.18 million analysts had predicted.
But the company expects to more than cover for the loss in the second quarter when it suspects more users will sign up to watch the upcoming season of its hit political drama House of Cards, which will air later than usual this year.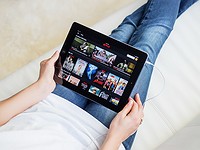 Netflix forecast 3.2 million more users in the seasonally slow second quarter, well ahead of analysts' estimate of nearly 2.4 million.
Netflix shares climbed 1.3 percent yesterday and the stock is on track to open at a record high today.
In pre-market trade Netflix was up more than 3 percent to a record high $147.25.
The company said its first quarter net income rose to $178 million, or 40 cents per share, compared with $28 million, or 6 cents per share, last year. Analysts had predicted 37 cents per share.
Revenue also climbed 35 percent to $2.64 billion.