Executives at Credit Suisse have offered to slash their bonuses by 40 percent after the investment bank posted losses for two straight years.
Chief executive Tidjane Thiam made the offer in a letter to shareholders ahead of the company's annual meeting.
He said the decision to dramatically reduce senior executives' variable compensation was an indication of the "the total confidence" the group have in turning around the bank's ailing fortunes.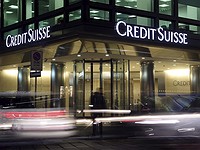 "My highest priority is to see through the turnaround of Credit Suisse which is under way," he wrote in the letter.

"I hope that this decision will alleviate some of the concerns expressed by some shareholders and will allow the executive team to continue to focus on the task at hand."
Shareholders will have the opportunity to vote on the executive's remuneration at the company's meeting on April 28.
The top 12 executives at Credit Suisse have been paid $77 million this year while Mr Thiam collected just under $12 last year.