Airbnb is improving its security after a BBC investigation revealed that homes had been burgled after hackers booked them with hijacked user accounts.
The BBC identified at least three people in the UK who had their homes robbed after renting them out on the popular rental website.
Scammers hijacked authentic Airbnb accounts carrying ticks that signify that Airbnb has verified the users' identities and they have positive reviews from previous bookings.
The scammers would then change the user's profile photo, name and contact details but were able to keep the tick of verification.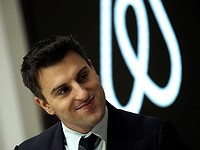 The BBC notified Airbnb of the incidents and the firm said it was working to tighten its security.
"These incidents are simply unacceptable and while this kind of experience is incredibly rare, we are not complacent," Airbnb said in a statement.

"Today we announced a number of new safety defences to better tackle fraudulent activity."
The changes include two-step verification, which requires users to enter a code sent to their phone as well as a password to access accounts, and text messages alerts when changes are made to a user's profile.