United Airlines share price has been hammered in the wake of an ugly incident that saw a doctor dragged off a plane kicking and screaming after he refused to leave the aircraft to make room for United workers.
United Continental (NYSE: United Continental Holdings [UAL]) shares were down almost 3.5 percent to $69.04 at 10.06am in New York.
The plunge was precipitated by the release of a video that showed a bloody-faced doctor being dragged off a plane on the tarmac at Chicago's O'Hare airport on Sunday.
The passenger was reportedly offered up to $800 to give up his seat after the Louisville flight was overbooked and there was no room for four United workers.
But the man insisted that he had to see patients the next day and security were called in to remove him from the flight.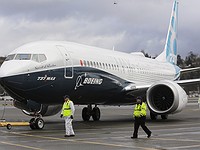 The video of him scuffling with the guard and screaming that he was going to be killed quickly went viral and forced the CEO of United to apologise for how his staff handled the incident.
"I apologize for having to reaccommodate these customers. Our team is moving with a sense of urgency to work with the authorities and conduct our own detailed review of what happened," United Chief Executive Oscar Munoz said.
United latest PR fiasco comes hot on the heels of an incident last month when two teenage girls were not allowed to board a flight because they had violated the airline's dress code by wearing leggings.