Just a week after overtaking Ford (NYSE: Ford Motor Company [F]), Tesla (NASDAQ: Tesla [TSLA]) has cruised past General Motors (NYSE: General Motors Company [GM]) to briefly become the biggest car maker in the US by market capitalisation.
Tesla shares reached $313.39 in early trade yesterday and with a market cap of $51 billion the electric car maker edged GM's market cap by almost $2 billion at that time.
However, Tesla slumped later in the session, closing 3.26 percent higher at $312.39 for a market cap of $49.34 billion, just off GM's $50.79 billion.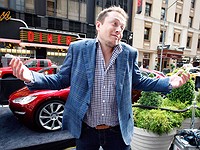 Tesla's stock has surged in 2017, climbing 45 percent year-to-date.
Earlier this month the firms announced that electric car sales rose 69 percent in the first quarter of this year to around 25,000 units, Tesla's best result ever.
But despite the strong result the firm has only once turned a profit.
Rebecca Lindland, executive analyst at Kelley Blue Book, said Tesla is not held to the same standards as other automakers because "they're classified as a tech company".
She told CNNMoney that She while Wall Street focuses on more traditional criteria, like profitability, for established companies like Ford and GM, "Tesla kind of gets a free pass."
But she added that markets also have an eye on the future and Tesla is viewed as well-positioned to capitalise when electric and potentially driverless vehicles become more mainstream.