India is set to become the world's second largest steel maker after posting a production record in the year to March.
Indian companies produced 101.3 million metric tonnes over the period, an 11 percent increase.
India's largest steel firms, Steel Authority of India, Tata Steel and JSW Steel, all witnessed record production last year.
India could overtake Japan by 2019 to emerge as the world's largest steel maker after China, according to the Australian Department of Industry, Innovation and Science.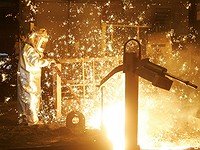 Next year India could draw level with Japan by further increasing production to 110 million tonnes and eclipse the east Asian nation in 2019 by putting out 118 million tonnes.
The year to March has also seen India become a net steel exporter for the first time in three years with exports doubling to 8.2 million metric tonnes, according to India's steel ministry.
Meanwhile imports plummeted 37 percent to 7.4 million tons, largely as a result of government measures to stem the tide of cheap imports allegedly "dumped" in India by Japan, China and Russia.
And India has announced it will take further action to protect the domestic industry from cheap imports by threatening to impose duties on certain steel products from the aforementioned nations.