Samsung Electronics has forecast its January-March profit at $8.8 billion, its best quarterly result in more than three years.
Heungkuk Securities analyst Lee Min-hee told Reuters the numbers were due to Samsung's industry-leading chip business and sales of mid-to-low tier smartphones.
Although Samsung will not release its results until the end of this month analysts believe the semiconductor business accounted for around $5.1 billion of the profit, a result that would be a record for the firm.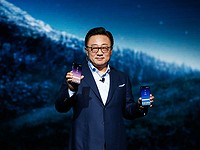 Analysts predict that Samsung will post its best ever quarterly profit next quarter on the back of sales of the firm's latest smartphone, the Galaxy S8.
Some researchers believe the phone could post a new first-year sales record. If things pan out that way it would mark a dramatic turnaround for Samsung's smartphone business after the fiasco of the fire-prone Note 7 that had to be recalled.
Samsung shares were down this morning but the stock rose 14 percent in January-March, its strongest gain since the first quarter of 2012.