Uber rival Lyft has reportedly been valued at $7.5 billion as it nears completion of a $500 million funding round.
That's a $2 billion increase on the $5.5 billion valuation at the San Francisco-based firm's last financing more than a year ago.
Lyft is said to be raising funds to expand its reach as Uber reels from a string of public fiascoes, including a series of high level departures and the recent crash of one of its self-driving cars.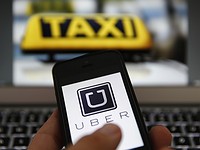 Lyft launched in 2012 and currently operates in 300 cities, all in the US.
In January it announced plans to add 100 more cities to its network.
In contrast market leader Uber operates in 570 cities around the world and is valued at about $68 billion, more than nine times the size of Lyft.