Adidas has partnered with a Silicon Valley startup with an aim of mass producing 3D-printed shoes.
The German sportswear giant has tied up with Carbon, which has developed a technique that prints with light-sensitive polymer resin that is then baked for strength.
The new method allows the sole of a shoe to be printed in as little as 20 minutes, compared to an hour and a half with current technology that build up products with layers of plastic powder.
Adidas head of technology innovation Gerd manz said the technology was a milestone for the entire footwear industry.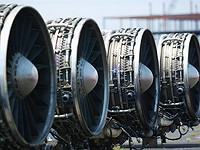 "We've cracked some of the boundaries," he said as he unveiled plans for the firm's "Futurecraft 4D" shoe.
Adidas aims to sell 5000 pairs the sneaker this year, and 100,000 in 2018.
Adidas already lets customers who order online choose the colour and patterns on their shoes but 3D printing will allow for further customisation.
As the cost of 3D printing and production times decrease the firm could eventually undertake smaller production runs, create limited edition shoes and soles tailored to a customer's weight, gait and sport of choice.