Spotify is planning to go public this year but unlike many of its tech peers the music streaming service will reportedly eschew an IPO and instead opt for a direct listing.
The company could list by September, taking the direction option and thereby avoiding the need to raise new money, the Wall Street Journal reports.
Earlier this week the Swedish firm announced that it had struck a deal with Universal Music to allow certain artists to quarantine their new albums from non-paying Spotify users.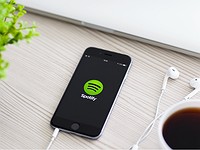 The move was viewed by many analysts as a necessary step ahead of the firm going public.
Universal artists will now be able to list their new albums as premium for up to two weeks, restricting their access to paying users.
However, singles by artists who have chosen to restrict access to their albums will still be available to all Spotify users.
The firm's chief executive Daniel Ek said that "not every album by every artist should be released the same way, and we've worked hard with UMG to develop a new, flexible release policy."
"Starting today, Universal artists can choose to release new albums on premium only for two weeks, offering subscribers an earlier chance to explore the complete creative work, while the singles are available across Spotify for all our listeners to enjoy."
Spotify had previously annoyed some singers, such as Taylor Swift, by making its entire catalogue of music available to all its users, whether or not they paid the monthly fee for an ad-free service.
Around 50 million of Spotify's 100 million users pay for the premium service.