Qatar is following Etihad Airways' move to loan laptops to premium customers on flights to the US after the US and UK banned larger electronic devices on flights from a number of Middle Eastern Airports.
The computers will be offered to Qatar Airways' business class passengers from next week, the airline said.
"We truly appreciate the importance of being able to work on board our aircraft," CEO Akbar Al Baker said in a statement.

"By providing this laptop-loan service we can ensure that our passengers on flights to the US can continue to work."
Etihad had previously announced it would provide iPads to its premium guests.
The airlines' new policy follows the decision by the US and UK to ban electronic items larger than a smartphone from a number of flights from Middle Eastern Airports.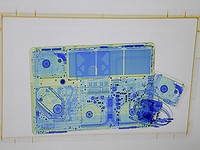 Security authorities in both nations said the ban was triggered by intelligence reports that terrorist groups were developing ways to conceal bombs inside electronic devices.