A consortium including South Korea's SK Hynix Inc has offered to buy Toshiba's memory chip business for $9 billion, according to reports.
The Japanese group put its prized asset up for sale as it prepares to book a potentially $9 billion writedown related to its US nuclear power unit Westinghouse, which today filed for Chapter 11 bankruptcy in New York.
Reports in South Korea's media said SK had partnered with Japanese financial institutions to launch the massive bid.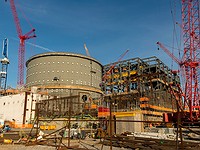 The names of the Japanese partners were not reported.
Toshiba is the world's second-largest maker of NAND flash memory chips, which are used in smartphones and other mobile devices.
SK is the world's fifth-largest manufacturer of NAND flash memory chips.
The South Korean firm has declined to comment on the speculation.