European regulators have vetoed the attempted $31 billion merger between the German and British stock exchanges.
European Competition Commissioner Margrethe Vestager said that a merger between the Deutsche Boerse (XETRA: Deutsche Boerse [DB1]) and the London Stock Exchange (LSE: London Stock Exchange Group [LSE]) would have created a monopoly in the processing of bond trades.
"How exactly these markets work and the products traded can seem like rocket science," said Ms Vestager said.

"But actually our competition concerns with this merger are very simple.

"In some markets Deutsche Börse and London Stock Exchange both provide the same services. And in some of these markets they are essentially the only players and the merger would therefore have led to a de facto monopoly."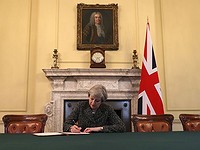 The move was rejected on the day the UK began the formal Brexit process by triggering Article 50 in a letter to European Union President Donald Tusk.
Some commentators said that uncertainty over EU-UK relations post-Brexit may have contributed to the deal being rejected.
It was the fifth time the bourses have attempted to merge.