British-based airlines have been warned that they will need to relocate or sell their shares to European nationals if they wish to continue flying within continental Europe after Brexit.
Executives from a number of major carriers were reportedly given the ultimatum in private meetings that could have massive consequences for the British aviation industry.
If airlines comply with the reported requirements it could mean thousands of job losses as companies restructure and move their UK headquarters offshore.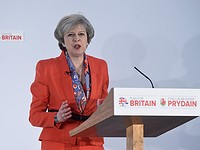 For UK-based carriers such as easyJet, flights within the EU have been a major part of their business model and they could conceivably leave the UK to maintain their market share.
Other airlines were reportedly hoping that the European commission would show leniency and allow them to continue to operate within continental Europe.
A number of British carriers including easyJet, British Airways owner IAG, Ryanair and the Tui Group, met with the EU's Brexit task force to discuss any possible changes last week.
The meeting came after representatives from European airlines such as Air France-KLM, Finnair, Lufthansa and SAS, also met with the task force to receive input from stakeholders.
Aviation expert Thomas van der Wijngaart, told The Guardian that Brexit could lead to job losses at UK airlines.
"It might be that carriers choose to have domestic flights [on the continent] operated by their new European operating licence, which would probably mean a reduction in staff in the UK," he said.
EasyJet is currently setting up an European operating company, allowing it to obtain a European operating licence, but said it remained committed to keeping its headquarters located in the UK.
The airline declined to comment on the meeting with the Brexit task force.