Vodafone has merged its Indian unit with the country's third largest network to become the biggest telco in India.
Today the UK telecommunications giant announced its merger with Idea Cellular after months of speculation about the tie-up.
With close to 400 million customers the new company will boast a market share of 35 percent, the firms said.
The deal is expected to further shake up the Indian telecom market, which has already experienced a price war, brought about by the entry of Reliance Jio.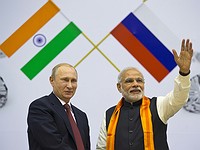 Analysts credit the firm, owned by India's richest man Mukesh Ambani, with forcing the merger to fend off competition.
Current market leader Bharti Airtel has cut prices to maintain its position and the slashing is expected to continue.
The merger will reportedly take 18-20 months to complete and is expected to result in job cuts.
However, many questions remain unanswered, including who will lead the newly merged entity.