British Prime Minister Theresa May will officially notify the European Union of the UK's upcoming exit next Wednesday.
A statement from 10 Downing Street said the PM would pen a letter to the 27 EU member states informing them of the decision and adding a desire to begun negotiations as soon as possible.
The UK's Ambassador to the EU, Sir Tim Barrow, notified the European Council earlier today.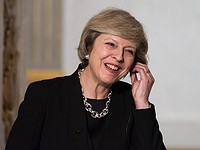 Discussions about how the UK will leave the union and on future relations cannot begin until Article 50 is triggered.
The article act as a type of exit plan for any nation wishing to leave the EU.
Ms May is expected to address Britain's parliament shortly after invoking Article 50.
The move has been on the cards since the UK voted narrowly in favour of leaving the EU in a referendum last June.
If Brexit sticks to schedule Britain could leave the EU in March 2019 after two years of negotiations.