A Chinese and Dubai-based ride sharing company are teaming up to take on Uber as the market leader struggles to cope with a series of high profile leaders departing.
Careem Inc, of the UAE, and China's Yidao Yongche have announced they will share resources under a partnership that will allow customers to use both services with a single app.
UK startup Splyt Technologies will coordinate both companies' fleets and payments so that passengers using one of the firms' apps will be able to avail themselves of both ride-sharing services when they travel abroad.
Splyt holds local bank accounts in regional currencies and will charge a commission on the currency exchange.
The idea is to provide a convenient alternative to Uber, which already has the ability to offer taxi services all over the world using just the one app.
The company has been up against it of late with the news of its rivals teaming up coming on the day that Uber's president Jeff Jones announced his resignation.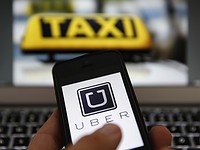 Mr Jones' departure comes less than seven months after he joined the ride-sharing company from Target, where he was chief marketing officer.
It follows the announcement by Uber's vice president of maps and business platform, Brian McClendon, that he will leave the company by the end of this month to pursue a career in politics in his home state of Kansas.