Airbnb, Dropbox and Electronic Arts are among 58 tech companies who filed an official brief in support of Hawaii's successful bid to halt the second version of Donald Trump's travel ban.
The firms argues that the immigration ban on the citizens of six Muslim-majority nations goes against the US Constitution's freedom of religion provision and will hurt business.
"Forty percent of Fortune 500 companies were founded by immigrants or by their children," the brief reads. "These companies together account for over $4.25 trillion in annual revenues and collectively employ more than 10 million people.... This trend shows no sign of slowing."
The bid was successful with a Federal court in Hawaii striking down the ban just hours before it was due to take effect overnight.
US District Court Judge Derrick Watson issued a Temporary Restraining Order (TRO), saying the ban was unconstitutional.
"The illogic of the government's contentions is palpable," Judge Watson wrote.

"The notion that one can demonstrate animus toward any group of people only by targeting all of them at once is fundamentally flawed."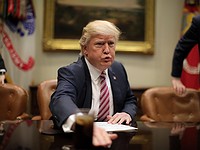 The new ban would have stopped people from Iran, Libya, Somalia, Sudan, Syria, and Yemen from entering the US for 90 days and all refugees for 120 days.
Iraq was targeted in the original travel ban but was removed because of its support of the "US War on Terror".
Last month 97 tech companies filed a similar brief of Trump's original travel ban but a number of the firms declined to protest the second attempted ban.
Microsoft, eBay, Intel, Netflix and Twitter are among the companies that signed onto the first brief but did not follow it up by supporting the second.
The full list of the 58 companies who oppose Trump's travel ban
Airbnb, Inc.

AltSchool, PBC

Ampush LLC

Appboy
Appnexus, Inc.
Azavea
CareZone, Inc.
Chegg, Inc.
Cloudera
Color Genomics, Inc.
Copia Institute
DoorDash
Dropbox, Inc.
Electronic Arts
EquityZen Inc.
Evernote Corporation
Flipboard
General Assembly Space, Inc.
Glassdoor, Inc.
Greenhouse Software, Inc.
IDEO
Imgur, Inc.
Indiegogo, Inc.
Kargo Global, Inc.
Kickstarter, PBC
Light
Linden Research, Inc. d/b/a Linden Lab
Lithium Technologies, Inc.
Lyft
Lytro, Inc.
Mapbox, Inc.
Marin Software Incorporated
Meetup, Inc.
Memebox Corporation
MongoDB, Inc.
NetApp, Inc.
Patreon, Inc.
Pinterest, Inc.
Postmates Inc.
Quora, Inc.
RealNetworks, Inc.
RetailMeNot, Inc.
Rocket Lawyer Incorporated
Shutterstock, Inc.
Square, Inc.
Strava, Inc.
SugarCRM
Sunrun, Inc.
TripAdvisor, Inc.
Turo, Inc.
Twilio Inc.
Udacity, Inc.
Upwork
Warby Parker
Wikimedia Foundation, Inc.
Work & Co
Y Combinator Management, LLC
Zendesk, Inc.