Outgoing Yahoo (NASDAQ: Yahoo! [YHOO]) CEO Marissa Mayer will soon be out of the job but she won't be out of pocket thanks to a $23 million "golden parachute".
As part of Verizon's (NYSE: Verizon Communications [VZ]) $4.5 billion deal to acquire Yahoo's core online assets the former Google executive will receive $3 million in cash and $20 million in stock. Not bad!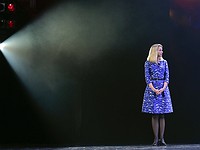 When Mayer does step down the company she leaves will essentially be a holding company for a stake in the Chinese eBay, Alibaba, that will be renamed Altaba.
Yahoo board member Thomas McInerney will take the reins of Altaba as CEO.
Mayer left Google to join Yahoo as CEO in 2012.
At the time she promised to transform the company and set about turning it into a media powerhouse through a series of acquisitions.
She was also at the helm when Yahoo was the target of two of the largest online hacks in history, resulting in more than one billion user accounts being compromised.
The breach caused the deal with Verizon to be delayed and led to the company negotiating a $350 million discount on the purchase of Yahoo's online assets, the first time two major US firms revised a deal because of a cyber attack.