Toshiba's president has hinted that the company may sell its majority stake in US nuclear power company Westinghouse amid ongoing cost over-runs.
Toshiba president Satoshi Tsunakawa said the company was "actively considering" a sale and other strategic options for the Westinghouse business.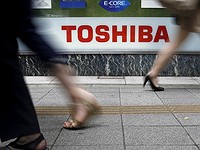 The Japanese electronics maker purchased a 77 percent stake in Westinghouse for $5.4 billion in 2006 and a year later sold a 10 percent stake to Kazakhstan's nation uranium company for $540 million.
Toshiba's US nuclear power business has not turned a profit since 2013 on the back of the fallout related to the Fukushima nuclear disaster and a series of cost blowouts related to the construction of reactors in the US.
In December the Japanese firm warned investors to expect a large one-off loss linked to a 2015 Westinghouse deal to buy the Stone & Webster nuclear construction business.
Last month, Toshiba revealed a $6.3 billion writedown related to the acquisition.
Toshiba later delayed announcing its results to the Tokyo Stock Exchange due to a disagreement with its auditors over the size of the writedown.
The company has been given permission to delay reporting earnings for a second time, with Toshiba's new deadline set for April 11.
The turmoil has hammered Toshiba's share price, which has lost more than half of its value since December.
The firm now runs the risk of being delisted and there are even murmurs that the giant could be forced to file for bankruptcy.
If that does eventuate it would be catastrophic, with Toshiba boasting more than 200,000 employees around the world.