The oil price has taken another plunge after Saudi Arabia revealed it had increased production in February.
Earlier today West Texas Intermediate crude (ICE Europe: Futures On WTI Crude Oil Mar 2017 [T]) tumbled 1.4 percent to $47.74 a barrel, its lowest level since November.
The world's largest oil producer lifted output above the key 10 million barrels a day level, to 10.011 million, according to data released by the Saudis.
However, in their own monthly production report OPEC stated that Saudi Arabia cut output even further to 9.797 million barrels a day.
At first glance the news seems to contradict the cartel's announcement late last year to reduce production by 1.2 million barrels per day in a bid to raise prices. However, the Saudis have technically held up their part of the bargain.
When the cuts were agreed on November 30 the Saudis pledged trim output to 10.058 million barrels a day. The latest increase therefore still keeps production below the figure agreed-upon.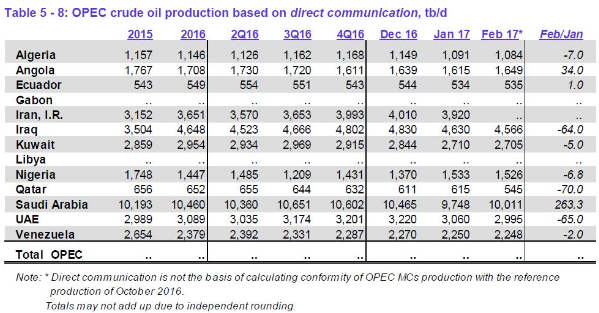 OPEC produced a total of 31.96 million barrels a day last month, compared with 32.1 million barrels a day in January.
Output by members that agreed to production cuts was 29.7 million barrels a day, compared with 29.9 million last month.
The only OPEC members who produced more than they had promised were Iraq and the United Arab Emirates, which pumped 63,000 and 51,000 barrels a day above their quotas, respectively.
Brent crude has also dipped to a low not seen since November and was down one percent to $50.82 a barrel.