China-bashing was a hallmark of Donald Trump's run to the White House but that hasn't stopped the nation's authorities from provisionally granting him dozens of trademarks for everything from restaurants to mines.
Trump applied for 39 trademarks in April last year, in the midst of the presidential campaign that saw him accuse China of damaging the US economy by manipulating its currency and stealing American jobs.
Four of the applications were rejected last month while nine were approved.
Following the approval of 26 applications on Monday the president now has the okay for 35 Trump-related trademarks for businesses ranging from construction, hotels and golf courses.
Trump Organization lawyer Alan Garten said the business had been "actively enforcing its intellectual property rights in China for more than a decade."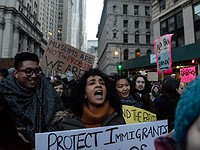 Trump's foreign business interests have been in the spotlight since he launched his bid for the White House and have come under further scrutiny since he won office.
Trump had unsuccessfully lobbied for years for a construction-related trademark in China that was finally granted in November, after he was elected president.
The businessman-turned president began his meteoric rise by expanding his father's real estate development business from the outer boroughs of New York to Manhattan in the 1970s.
As well as making him rich the move made him a celebrity and Trump has since used his profile to expand the empire to include hotels, casinos, golf courses, a model management firm and the Miss Universe pageant.
The real estate developer initially refused to sell his business to appease concerns over conflict of interest but reluctantly stepped aside from his namesake organisation and more than 400 affiliates in January.
The president transferred title, management and authority of the companies to a trust under the management of his sons Don and Eric and Allen Weisselberg, chief financial officer of The Trump Organization.
However, that has not silenced his critics who argue that a conflict of interests still exists.
In January the Director of the U.S. Office of Government Ethics Walter Shaub said "Stepping back from running his business is meaningless from a conflict-of-interest perspective."
"The idea of setting up a trust to hold his operating businesses adds nothing to the equation. This is not a blind trust — it's not even close."
Maryland Democrat Senator Ben Cardin called the new approvals "a major concern" that could violate clauses in the constitution that ban federal office holders from accepting any "present, emoulment, office or title" from a foreign state.
Mr Garten said that Trump has had trademarks for his core real estate businesses in China since 2011, long before he announced his bid for the presidency.
"The latest registrations are a natural result of those longstanding, diligent efforts and any suggestion to the contrary demonstrates a complete disregard of the facts as well as a lack of understanding of international trademark law," he said.