The busiest man in Silicon Valley has taken on yet another hi-tech project with Tesla (NASDAQ: Tesla [TSLA]) boss Elon Musk revealing he has started a new company to connect people's brains to their computers.
Neuralink has been registered as a medical research firm and will work to develop "neural lace" technology that could allow tiny electrodes to be implanted into the brain.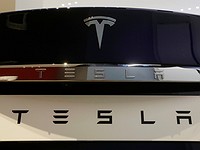 The technology could help improve memory and also compliment the brain with artificial intelligence.
Mr Musk tweeted yesterday that more details about the company would be revealed next week.
Neuralink has reportedly already begun recruiting the experts to make its sci-fi vision a reality.
The project will be privately financed by Mr Musk.
And while he may not be short of the cash for another start-up, finding time for the venture could prove more difficult.
Mr Musk is the chief executive of electric car maker and battery storage firm Tesla, and the CEO of space cargo company and reusable rocket developer Space X.
He is also involved in a transport project called Hyperloop and another ambitious venture to provide power to the state of South Australia.