Chinese internet giant Tencent has purchased a five percent stake in electric car maker Tesla (NASDAQ: Tesla [TSLA]).
The online entertainment company paid $1.8 billion for the shares through the auto firm's March 17 stock offering and open-market purchases,, according to a filing.
Earlier this year Tesla revealed that it planned to raise $1.15 billion ahead of the launch of its new Model 3 vehicle.
A Tencent spokesperson described Tesla as "a global pioneer at the forefront of new technologies" and praised its charismatic leader Elon Musk.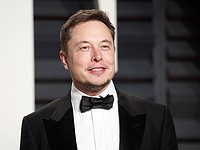 "Tencent's success is partly due to our record of backing entrepreneurs with capital; Elon Musk is the archetype for entrepreneurship, combining vision, ambition, and execution."
Tesla plans to begin production of its Model 3 in July.
Tencent's purchase marks its most high-profile step into the green car industry after its investment in NextEV and Future Mobility Corp.
Tencent Holdings has subsidiaries in media, entertainment, payment systems,internet and online gaming and online advertising services.