Amazon has expanded into the Middle East through the purchase of the region's biggest e-commerce player Souq.com.
The financial details of the deal were not disclosed but Dubai-based Souq is thought to be worth at least $1 billion after it raised $275 million from investors last year.
Souq said it will continue to trade under its own name in the Middle East region.
"Joining the Amazon family will enable souq.com to continue growing while working with Amazon to bring even more products and offerings to customers worldwide," Souq said in a statement.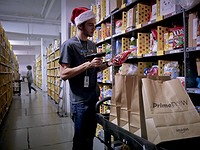 The deal was announced just days after Dubai property developer Emaar Malls launched an $800 million bid for Souq.
Souq has 3000 workers across the Middle East and sells more than 8 million products in 31 categories.
The acquisition is expected to be finalised by the end of the year.