Samsung's soon-to-be released Galaxy S8 will double as a desktop computer when connected to a dock, according to a leak.
A picture of the circular-shaped dock, which is similar to Microsoft's Continuum for Windows Mobile, was published on Twitter by German tech journalist and serial leaker Roland Quandt on Monday.
The docking station includes two USB ports, Ethernet and active cooling fan and will allow the S8 to be used as an Android-based desktop computer, Quandt wrote.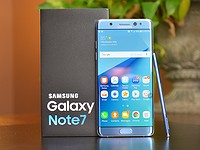 The phone will also have the ability to connect to external display monitors with resolutions up to 4k.
The dock will also feature Adaptive Fast Charging and will reportedly cost around $160.
The Galaxy S8 will be officially unveiled next Wednesday.
It is the first major launch of a Samsung phone since the Note 7 fiasco late year that ultimately ended with the phone being recalled because of its exploding batteries.