Apple (NASDAQ: AAPL) has been forced to deny that it was compromised by hackers who are demanding the company pay up or see 200 million iCloud accounts wiped.
The group, which calls itself the Turkish Crime Family, originally demanded that Apple pay it $75,000 in Bitcoin or $100,000 in iTunes gift cards but later said the initial figure was offered by mistake and the real sum was "a lot higher".
Apple has issued a statement denying that its security had been breached and suggesting the group could be using already hacked accounts shared on the dark web, such as those from one of the two massive yahoo data breaches.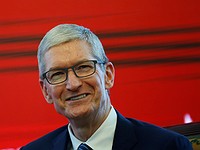 "There have not been any breaches in any of Apple's systems including iCloud and Apple ID," the Silicon Valley firm said.

"The alleged list of email addresses and passwords appears to have been obtained from previously compromised third-party services.

"We're actively monitoring to prevent unauthorised access to user accounts and are working with law enforcement to identify the criminals involved.

"To protect against these type of attacks, we always recommend that users always use strong passwords, not use those same passwords across sites and turn on two-factor authentication."
Tech site Motherboard reported seeing screenshots of communication between the alleged hackers and Apple but there also appears to be inconsistencies in the group's claims.
One account attributed to the group said it has access to 200 million accounts while another said it had 300 million and a third put the figure at 559 million.
The Turkish Crime Family has given Apple a deadline of April 7 to meet its demands or have the accounts factory reset.
The group has also warned that this attack will not be their last.