Apple (NASDAQ: AAPL) has dipped its toes in the world of messaging with its newly released Clips video app, posing a challenge to Instagram and Facebook's (NASDAQ: FB) Messenger.
The app, which is slated to be released next month, will allow users to make videos and edit them with animated captions and titles, emojis and speech bubbles.
Clips will also offer users the ability to compile montages, piecing together cuts from a number of videos.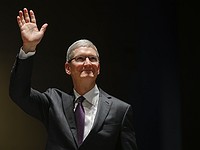 The function is very similar to Snapchat's Stories feature and with Apple millions of iPhone users and the built-in Messages app could pose a direct challenge to Snapchat.
Clips will also let users post their videos directly to YouTube as well as Instagram and Facebook.
With a growing number of people ditching social media apps for messaging services such as WhatsApp the messaging sector is set to become even more competitive.
Analysis from Gartner shows that between 2015 and 2016, the percentage of US and UK smartphone owners using social media apps dipped from 85 percent to 83 percent while the use of messaging apps rose from 68 percent to 71 percent.
The growth of messaging apps is predicted to continue, according to the firm.