Tesla has revealed it will power a small Hawaiian island with the of help of the sun and more than 54,000 of its giant battery packs.
The firm made the announcement on the island of Kauai yesterday after initial plans were launched in February last year, Business Insider reports.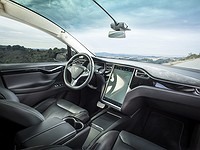 The electric car maker has joined hands with the Kauai Island Utility Cooperative (KIUC) to set up a 13 megawatt solar farm made up of 54,978 solar panels and 272 of Tesla's Powerpack 2 batteries.
The energy stored the island's sunkissed days will be stored in the batteries and power the 1430 sqkm island overnight.
Tesla estimates that the project will reduce the island's fossil fuel use by more than 6 million litres each year.
The solar farm will be turned on in phases with the KIUC agreeing to a 20-year deal to buy 1 kilowatt-hour of electricity for just under 14 cents.
More associated with electric cars, Tesla has been making forays into the solar power business since purchasing SolarCity last November.
Tesla's solar technology is currently powering the nearby American Samoan island of Ta'u.