We all dream to at least once in our lives experience the luxury of flying the first or business classes of the world's top airlines. But can we afford it? Actually, the answer is: yes, we can. Gilbert Ott, an inveterate traveller and air miles enthusiast from New York, shares his knowledge about traveling for free around the globe in the most luxurious ways possible.
Spending a lot of his time traveling around the globe, Ott writes about various hacks in the travel industry in his blog God Save the Points. But while the power of air miles is widely recognized, the blogger says there is another, little known way to find a deal of your life.
In his blog post, Ott explains how to take advantage of something called "error fares" or the mistakes airlines and travel companies make when flights are available for much cheaper than intended.
Using such an error fare, it was possible to book a business class roundtrip Qatar Airways ticket from Amsterdam to Tokyo via Doha for just $640.
"That felt like the best deal I'd ever seen, and then ANA just went and offered $630 roundtrip business class between Vancouver and Sydney!"
Ott wrote in his blog post.
"Yes, Australia in business class for less than people pay for coach. These are just two examples of the insane deals you want to tune in for error fares."
How do error fares work?
"Unlike the old days, airlines file airfares constantly,"
"Often, they involve humans or computers, both of which are known to make mistakes, or fail! An error fare could be someone forgetting a digit, like $700 instead of $7000, or offering a deal to unintended cities, amongst many others. These days however, airlines love tempting us into booking extra trips – just because – so some fares that seem too good to be true may not even be an error at all. Just a super limited time deal."
How to find error fares
"If this was easy, everyone would do it,"
Ott wrote. He suggests following the God Save The Points Facebook page for updates on flight deals, as well as forums where most deals originate first: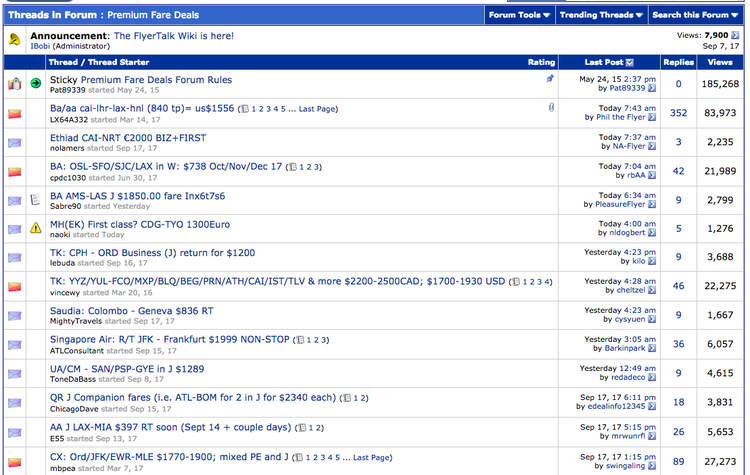 "Why incessantly click around all day, when you could just have deals pushed to you? Our Google Flights tricks show you how to set alerts for all your favorite bucket list flights, so you may even beat 'the blogs' to finding an incredible deal. You can also choose to get notifications from God Save The Points' Facebook page. "You can do the same for other great deal sites, and also get email alerts when new fares pop up in the two Flyertalk forums we mentioned. Sure, this requires some legwork, but how much is an unimaginably luxurious trip — without the price tag — worth?"
Fares don't last long, you should be fast
"These are the fares of peoples dreams, and they happen in all cabins," he wrote. "Whether it's $100 round the world economy tickets or $600 for 40+ hours in flat bed business class, people want in! As such, when word spreads, they don't last. Most fares last mere hours, if that. The key is getting in early, getting in fast, and asking questions later — oh, and don't call the airline."
If possible, book directly through the airline
"Airlines and hotels are far more likely to honor any mistake fares booked directly through them rather than those booked through online travel agencies. They also issue tickets for direct booking faster, which can be a decider in whether the deal is allowed or not."
Wait at least for 24 hours after booking to contact the airlines
"Available dates dry up in seconds, and it really is a race against time. Find something you believe works, do your best to make it work and book ASAP. Once you've booked, don't call the airline or hotel to ask if it is going to be honored. At least not for 24 hours, until others have a chance to book as well, and until the dust settles."
Remember that it might not work
"Know that when you book an error fare, you shouldn't book any other travel plans for at least a few days, until the airline or hotel agrees to honor the deal or not. If you can't afford to potentially have the money waiting in limbo, you may want to opt out, but if they don't honor, you'll always receive a refund. For sure."