Russia has finally launched trading of Urals crude oil futures on a domestic stock exchange as a way to decouple Urals from Brent and create an independently-priced oil benchmark. How realistic is Putin's plan?
The Russian President Vladimir Putin has repeatedly called for creation of Urals futures contract as he was unhappy with the way Urals was traditionally traded in relation to Brent crude benchmark. However, his dream of creating a domestic oil benchmark traded exclusively on a local Russian stock exchange has been continuously postponed. Ever since 2006, when the president called for the oil & gas companies and authorities to create Russia's own financial market for trading oil, gas and commodities, the government was looking for ways to centralise oil trading within the country.
Ultimately, Putin would want to create a strong Russian oil benchmark, similar to that of Brent, that would be traded independently from the basket of foreign benchmarks like Brent (NYMEX: XBR/USD) or WTI (NYMEX: XTI/USD) and bring Russia multiple price benefits. Yesterday's launch of Urals futures is not the first time Russia tries to establish Urals as an international oil benchmark though, says Reuters. Back in 2007, Urals was proposed for trading on New York but was not granted an approval. All later attempts to bring Urals on the international arena also failed as foreign traders shunned Russian futures.
According to Bloomberg, introducing Urals futures is Russia's most serious attempt to separate Russian oil from unfavorable influence of Brent, as it was traditionally priced at a discount to Brent in the physical market. However, the experts say that this time might not be that different from the previous ones. Yesterday, Urals futures were launched on St. Petersburg International Mercantile Exchange, with the first supplies for the 3-month contracts shipped already in March. Russia's Kommersant reported that Urals' contract volume was set at 1,000 barrels whereas a standard supply batch was 720,000 barrels. For now, the trading will be done in dollars but as soon as Urals gets a status of benchmark it will be traded in rubles, euro and yuan, they said.
Again, the main reason behind pushing Urals towards a status of an independent benchmark is its dependence on the price of Brent. Typically, Urals trades at a discount to Dated Brent because Urals has a higher sulfur content compared to Brent, what makes the quality of the blend lower. This is where Urals discounted price is coming from, say Bloomberg experts. However, Russian authorities are interested in setting their own price for Urals on their domestic market instead of relying on international financial market for that.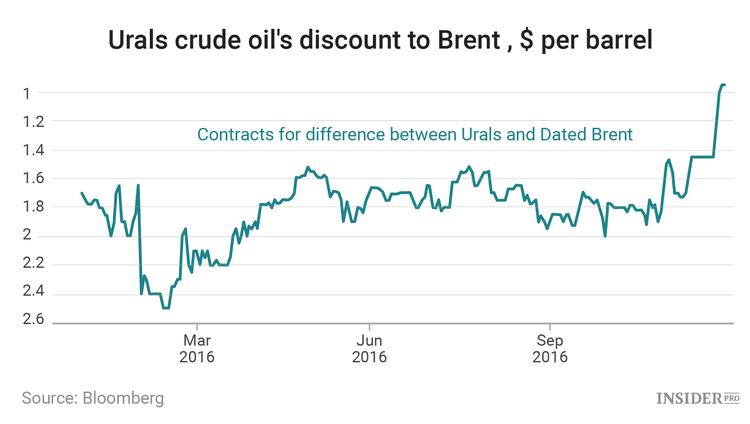 Considering that Urals futures debut at St. Petersburg exchange was only yesterday, it is too early to talk about any price increase that the government is hoping for. According to Gazeta.Ru, a futures contract on Urals was valued at $46.29 during yesterday's debut trading day, which is still lower than Brent's yesterday price of $48.1. At the close yesterday, Urals futures transaction added up to slightly over 78 million rubles for the March supply and 52.4 million rubles for the April supply.
Will Urals attract foreign traders this time?
Even though foreign traders and oil companies were not that interested in trading Russian oil futures the last times, the vice president of St. Petersburg stock exchange Mikhail Temnichenko told Russia's Gazeta.Ru that many foreign players like Royal Dutch Shell (NYSE: Royal Dutch Shell Class A [RDS.A]), among others, are "preparing" to start trading Urals in the upcoming months. Rosneft's (LSE IOB: Rosneft [ROSN]) chef Igor Sechin also believes that big oil traders, foreign banks and major oil companies will join the trading very soon. However, some industry players have another opinion.
"I would say, the idea itself is strategically correct, as this could boost both Russian oil industry and the federal budget. But the question is whether customers will be ready to pay a few more dollars per barrel on a St. Petersburg exchange instead of going with the normal contracts attached to Brent with a supply from Rotterdam?", said Konstantin Simonov, the Head of National Energy Security Fund.
Other market participants said that Putin's plan of making Urals a stand-alone benchmark might need more resources than initially expected.
"First of all, it is highly dependent on who will actually participate in trading. To become a benchmark, Urals needs support of a lot of international players. Next to that, benchmark requires highly developed infrastructure and advanced financial tools," an anonymous source told Gazeta.Ru.
Kommersant reported that during the first trading day, Urals futures were in high demand among brokers whereas Russian oil companies like Surgutneftegaz (MICEX: Surgutneftegas [SNGS]) and Gazprom (MICEX: Gazprom [GAZP]) did not participate in trading. No foreign players showed up either. Bloomberg says that, all problems apart, Russia has the physical capacity to set up an international oil benchmark as it is one of the world's largest suppliers. Urals is already one of the top trading crude oils and Russia has several "dependent" buyers like European Union, and, possibly in the future, Asia.
However, making Urals a benchmark will not be easy. According to Bloomberg, foreign players are staying away from trading Urals futures because they fear significant lack of liquidity in the market, technical problems with actual delivery of the oil to investors who buy the futures and lack of high-speed connections at Spimex, which is yet another important factor. In other words, there is a big physical capability of supplying oil but not enough infrastructure to make foreign players chose Russian Urals instead of Brent.
"This has a very low probability of success. I would assess for a variety of reasons that the prospects are relatively poor: liquidity and clearing costs are the two big obstacles," an expert Craig Pirrong told Bloomberg.