Silver miners has made the most impressive stocks of this year, with this Peruvian producer jumping the highest. Here are 3 other stocks worth buying now while silver is hot.
Hochschild Mining PLC (LN: HOC) is a Peruvian/British mining company that made a grand appearance this year by leaving everyone else behind as its stock skyrocketed 432%, reports Bloomberg. After demonstrating 3 consecutive years of losses and large debts, this year, Hochschild will finally impress the investors.
Hochschild mines gold and silver in Peru and Argentina, and has shown mediocre success in the past years mostly focusing on gold. However, their silver mining business has finally paid off this year. According to the experts, such factors as weakening Argentine peso, new promising mine discovery in Peru and, most importantly, high silver prices made Hochschild an attractive investment choice.
Hochschild, just as many other silver producers, was bogged down in debt until this year when the silver prices finally went up. Bloomberg says that silver has been the highest since 2010, growing more than 37% this year. This gave hope for silver producers to finally get out of debt.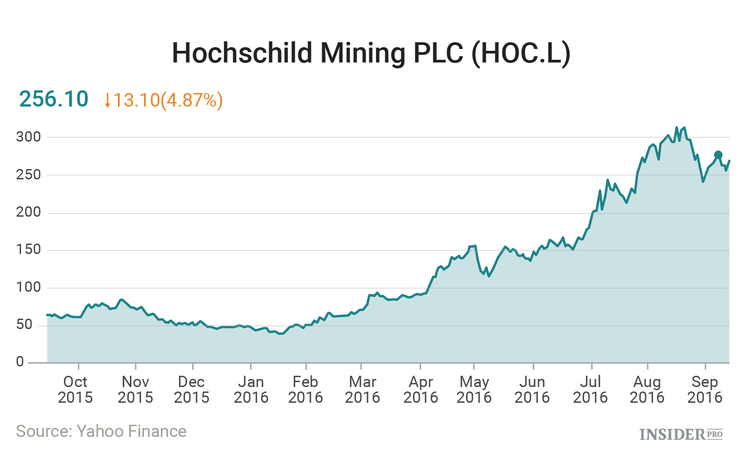 Ignacio Bustamante, the CEO of Hochschild, says that they company is currently operating on the 70% of the total capacity and is planning to expand its mining operations to some new promising reserves in Peru. The analysts say that investors will see further growth of the silver sector unless the Fed decides to increase the interest rates this year. This will be one factor to drag silver prices down again as they have been thriving this year mostly because of the interest rates remaining low. In addition to that, the results of the U.S. presidential elections as well as the dollar's performance are other critical factors to keep in mind.
Interestingly, the second hottest stock of 2016 is also a silver mining company, says Bloomberg. And that is an American producer Coeur Mining (NYSE: CDE) that showed a whopping 390% stock price increase. On this note, let's have a look at what other promising silver stocks investors should watch out for.
The Street's experts say that this stock is one of the best long-term silver picks out there as the company has an "unusual" business model that separates it from most other silver companies around. First of all, 60% of Silver Wheaton's profits come from silver and the company has maintained a considerable market share over the years. But what makes this company truly different is that Silver Wheaton (TMX: Silver Wheaton [SLW]) doesn't own any silver mines itself, meaning that the company is not a producer per se. Why is this a good thing?
The company has made deals with about 15 top precious metal producers, securing its access to high quality assets. This way, there is no risks associated with physical production of precious metals that most other companies are dealing with, what makes SLW a low risk investment. The company's stock has increased by 118% since the beginning of this year and is likely to be even more successful the next year, say the analysts. In addition to that, Silver Wheaton's earnings are expected to grow by as much as 21% yearly for the next 5 years. If this doesn't sound promising enough to you, then the prediction of the company's revenue to grow from the current $649 million to almost $940 million in 2017 should finally convince you that this stock is a "buy". At the moment, SLW trades at $26.89.
This company is a primarily silver producer, greatly focusing on exploration activities. At the moment, Great Panther Silver (NYSEMKT: GPL) owns 2 mines in Mexico. By this April, the shares were up almost 275% as compared to the benchmark silver index (NYSEARCA: SIL), which is a very good result. Since April, the stock has climbed down considerably, making Great Panther an attractive investment opportunity again. According to the experts, the company's Q2 results were rather impressive as Great Panther has managed to cut more than 40% of its sustaining costs and improved cash and cash equivalents numbers by 48% amounting to $28.8 million in total. In addition to that, the company's adjusted earnings before interest, taxes, depreciation and amortization (EBITDA) grew by 134%.
Overall, the stock is an attractive long-term investment opportunity as the experts believe that Great Panther has room to grow even higher. However, investors should be prepared for some volatility in the stock behaviour but it can only bring more opportunities for gains. GPL trades at $1.34.
Hecla (NYSE: HL) gained the title of the biggest low-cost primary silver producer in the U.S. when its production levels jumped over 70% in this year's Q2, says the Motley Fool. Because of that, the company's sales skyrocketed to the highest levels in Hecla's history. Next to that, the company's adjusted EBITDA reached $77.8 million, growing by more than 160%. The experts say that Hecla's performance is about to get even better as the company announced its plans to boost its silver production even further right at the moment when silver price is at its highest.
The stock has grown from $1.56 per share in December 2015 to $7.14 per share in the last months thanks to an impressive Q2 results. Hecla is yet another stock with a long-term growth potential. The analysts advise on waiting until Hecla's stock pulls back a little and reaches the level of $5s, as this would be a perfect "buying" opportunity. Another reason why the company is very likely to continue improving its performance is the acquisition of Mines Management (NYSEMKT: MGN) that was finalized just two days ago.
This acquisition is important because Mines Management is the owner of Montanore Project, a big undeveloped silver and gold mining project in Montana that was recently approved for mining. Therefore, by buying Mines Management, Hecla got a full access to the promising mining area in the U.S and opened further growth opportunities.