The US Federal reserve is expected to leave rates on hold when it meets tomorrow.
In March the Fed lifted rates by 25 basis points to between 0.75 and 1 percent and had signalled two more quarter-percentage point hikes were in the pipeline.
The rate-setting committee is reportedly waiting to see if President Donald Trump's policies on tax, spending and regulation will pass Congress.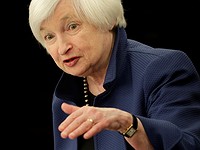 If the president's massive infrastructure plans come to fruition that could speed up the pace of hikes.
Economic data released since the Fed's last meeting has been mixed with economic growth for the first quarter coming in at a sluggish 0.7 percent while small business and wage growth surged.
Job growth also slowed in March but the unemployment rate reached a decade low of 4.5 percent.
Economists surveyed by Reuters said they did not expect the Fed to move the key rate this month with a June rate hike a possibility, according to Fed futures data compiled by the CME Group