The Eurozone's unemployment rate has dipped to an eight-year low, suggesting the region is finally emerging from the shadow of the Global Financial Crisis.
The jobless rate fell from 9.6 percent in January to 9.5 percent last month, the best result since May 2009, according to Eurostat data.
The result was driven by job growth in Spain and Italy. The number of Italians out of work dropped from 3.06 million to 2.98 million, while the number of unemployed Spaniards fell from 4.13 million to 4.09 million.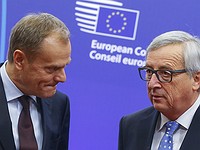 However, both nations are still battling unemployment and the rate across the Eurozone remains high, particularly in southern Europe. The jobless rate in Italy is 11.5 percent while Spain has the second highest rate in the Eurozone at 18 percent.
The worst performer was Greece with a massive 23.1 percent unemployment rate.
The Czech Republic recorded the lowest unemployment rate at 3.4 percent, followed by Germany at 3.9 percent.