In the light of ruble tumbling down to historical lows, Ford plans to significantly increase the export of the car parts produced in Russia to Europe as a way to play on ruble's gloomy state.
Russia's Vedomosti interviewed Hau Thai-Tang, Ford's Vice President of Global Purchasing, who shared the company's plans to expand their production business in Russia. Russian national currency has lost over half of its value since 2014, making the country highly unattractive for foreign import from euro and dollar countries. Even though Thai-Tang didn't reveal the details, he said that the number of the Russian-based Ford (NYSE: Ford Motor Company [F]) suppliers will dramatically increase from 3 to somewhere between 15 and 20. In addition to that, due to the ruble's low value, the profits from exporting car parts produced in Russia to Europe are expected to grow more than 10 times, an anonymous source close to the company told Vedomosti.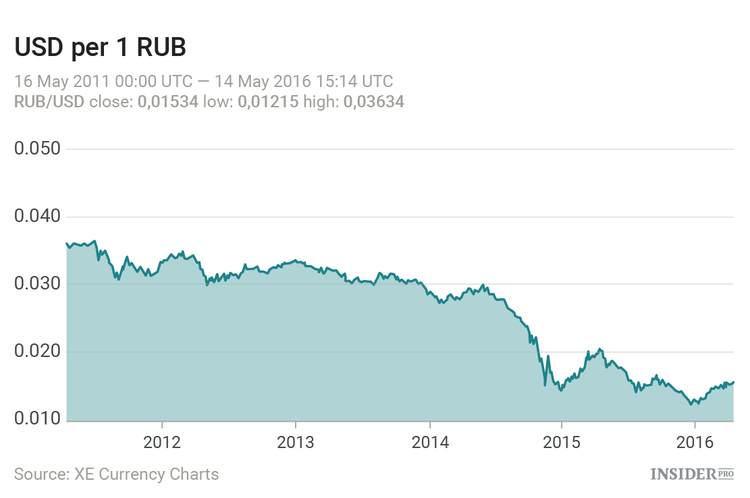 According to the Russian Federal Customs Service, the amount of imported goods in the country has decreased by 40% since 2014, with the car industry showing the highest decline of all. However, Ford is planning to take advantage of the low production costs within Russia, thanks to devalued ruble, and export the car parts to the European market. This will allow the company to kill two birds with one stone: support and expand the local manufacturing in Russia at low costs together with making additional profits by "playing" on the low currency level in relation to euro.
Ford has been working with the Russian market for years both producing complete cars to be sold locally as well as manufacturing separate car parts. Previously, exporting car parts from Russia made up a tiny part of the company's business in the country. At the moment, Ford produces disks, brackets and spark plugs in Russia that are supplied to Ford's German and British manufacture plants. In the nearest future, the company plans to add at least 6 more suppliers operating from this country.
However, the main target market in Europe for exporting car parts from Russia is going to be Romania, says Thai-Tang. Romanian Ford factory produces MPV B-Max model and plans to start on manufacturing Ford EcoSport. Currently, the factory receives car parts from India, another Ford's low cost market. Yet the company wants to centralize the car parts manufacturing in Europe and gradually substitute all supplies from India with Russia's.
Thai-Tang explained Ford's initiative to supply Russian-produced car parts to Romania by ruble's devaluation, the country's ability to offer high quality production levels and, interestingly, the close connection between the two countries.
This year, Ford has demonstrated a consistently good performance on the Russian market even though the country has experienced a 14% decline in overall passenger car sales. Ford's sales grew by 40% as reported by Russian Automotive Association.
Nevertheless, Ford is not the only one who plans to expand their production in Russia and take advantage of the current economic situation in the country. Renault (EPA: RNO) also plans to produce car parts for their Logan model to be exported to Algeria from Russia together with Nissan (OTC: NSANY) manufacturing parts for its Nissan X-Train model to be sold in Europe. Seems like the car manufacturers finally found a way to deal with devalued ruble and falling sales in Russia by compensating with the export.
Similar to that, Thai-Tang mentioned that the company also makes additional profits from producing its car engines in the U.K., as a result of devaluation of British pound in the past months. However, back in July, the company was considering shutting down its manufacture plants in the country after Brexit results were announced. The company's officials predicted the business losses brought about by Brexit to reach $1 billion in the next two years. Bob Shanks, Ford's Chief Financial Officer, told Financial Times that the company plans to increase the prices of their vehicles in the U.K. in order to compensate for the Brexit-caused losses.
"We're going to have to look more at cost. The company would find a way to "claw that back"," he told FT.
Falling sales is a major problem that car manufacturers experience in the markets with devalued currencies such as Russia (mostly) and the U.K., to a certain extent. That is why Ford is trying to find its way to "claw back" on such losses by looking at cheaper production costs opportunities. And it seems like very soon Ford will not be the only one doing that.