South Koreans are bracing themselves for what has been dubbed the "trial of the century" with the de facto head of Samsung poised to face court over allegations of embezzlement and multi-million dollar bribes.
Samsung Vice Chairman Lee Jae-Yong, 48 has formally denied pledging tens of millions of dollars to win favor with embattled South Korean President Park Geun-Hye in order to secure government support for a merger.
Preliminary hearings began today with the ramifications going well beyond the man at the centre of the alleged corruption.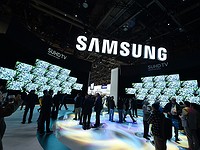 President Park is facing impeachment over the claims that have also seen four other Samsung executives charged with bribery and other crimes.
Mr Lee is accused of funneling $36 million in bribes to a confidante of the president, as well embezzlement, illegal transfer of property abroad and perjury before parliament.
He is not the first Samsung executive to face corruption allegations with his own father, Samsung Chairman Lee Kun-hee, previously convicted of white collar crime.
He remains Samsung Chairman but his son and nominal deputy is thought to be the one at the helm of the conglomerate since his father's heart attack in 2014.
The senior Mr Lee was able to stay out of jail after his convictions thanks to presidential pardons but there is a feeling in South Korea that his son may not be so lucky.
This latest trial is being viewed in some circles a test of the country's ability to take on the powerful family dynasties that have been key to South Korea's spectacular economic rise.
It is considered significant that Mr Lee, is the first Samsung boss to be arrested and jailed before he stands trial.
If found guilty Lee will likely face further time in jail with the embezzlement offence alone carrying a minimum of five years in prison.
Despite the controversy shares in the conglomerate's flagship company Samsung Electronics have surged to record highs as it tries to put the disaster of its Note 7 recall behind it.
The trial continues.